A while back I started jotting down some thoughts on the role of irreplaceable albums in my life. The albums that stand out are no surprise covering a wide range. Our exploded postmodern era is manifest in our record collections among many other objects. The way we have been living in the plugged in parts of the world since the mid-late 1900's, it's been totally natural LP-hopping, CD-shuffling, or youtube-zapping from Arnold Schönberg to Count Basie to The Melvins to Luigi Dallapiccola to Kraftwerk to Sam Cooke to Gnawa music etc. as if the pieces were scenes in a big cinematic reality, or instant mood changers akin to a baby's shifting reactions to external stimuli.
I decided that the one criteria for making the desert island picks is that I continue returning to each record. I can't shake them and want more of the good stuff, repeated thrills, feelings and ideals they represent to me, and reflecting things I believe in and are of value to me. Some of these albums take me to a special place every time. There is a sense of lasting value, a subjective sensibility of true connection between me the listener, and the artists' playing/singing communicated through the recorded music.
When listening to music we imagine what the musicians playing are like as humans, as when reading a novel. The recordings can be mind blowing, emotionally gripping, awe-inspiring, comforting, fascinatingly constructed, mind boggling etc. I've only chosen albums that have meant a lot to me as an individual over time. Hundreds of albums are obviously important to me but it would take up too much of my time to continue, for now. Some selections have very little, if anything at all, to do with how my own music may sound. In some cases the influence has leaked in rather blatantly and has established points of reference and valued positions echoed here and there in my own music making process. One commonality I find the albums all share is that none of them boast some big or small pretentious concept or another – points for technical, or intellectual bravura don't matter, although many of them have become staples in my hungry private edutainment program of enhancing musical understanding and desire to learn and develop further as a musician. They also share a feeling of magic, believability, and excitement in the delivery, "flaws" included. I'm not dogmatic about them and can easily see that others may argue and/or just shrug their shoulders in response, of course. I am quite sure anybody can identify with being "in on" or in tune with a favorite record – involuntarily air guitaring, singing, knee drumming, or just flowing along with track after track as if one is actually in the band – that empowering feeling.
Growing up in Sweden in the 80's, going to the record store (which was located in the regular supermarket) was very exciting because you knew you'd face something new and titillating every week. Anticipation is a very important factor for the hunger and want dwindling in the digital non-stop mode of today's era. These days I go to record stores or online sites to look for specific albums or for impulse buys. Often friends generously give me their newest album, or tips, or I've read about some recording that triggers curiosity for whatever reason. For what it's worth – 35 albums listed alphabetically:


Bela Bartok "6 string quartets" Alban Berg Quartet (EMI) Is a 3-cd box of the complete string quartets by one guy an album? I guess so… It was either late in high school or early in college a friend and I put on a recording (Takács quartet's) of string quartet 1 on lp. After a few minutes my friend said he needed to lift the needle because he couldn't deal with the melancholy in the music. I, however, was into it. Over the years I got a book with all the scores, this cd box, and have listened a lot to all 6 quartets. They are so imaginative and full of surprises and of course so well composed. I really like #2 but they are all immense.


Blind Blake "The best of Blind Blake" (Yazoo) A few years ago I was listening back to old blues guitarists. Hadn't heard BB before but was blown away by his one-man band approach to the guitar. They call the style ragtime guitar and he stays very active on the instrument, so bouncy, along with his singing. Bitter sweet or funny lyrics too. He was blind and recorded for Paramount Records until they went bankrupt, died at 38.

Paul Bley "Mr. Joy" (Trip Jazz) The thoughtful, humorous take on jazz and improvisation of Paul Bley has been a reference point for me since I heard his dark and bleak trio album "Ballads" (ECM) in college. On "Ballads" they weren't afraid to turn the tempo down to crawling, face distressing tension, and dwell on the personal choice at each moment in a piano trio setting. On that album the themes, mainly by Annette Peacock, are very minimal and unhappy, it resonated with me. On "Mr. Joy" there is a much brighter spirit and vivacity given to Annette's music that puts me in a good mood, and makes fun of a lot of jazz clichés in the process already in 1968, with master Gary Peacock, and Billy Elgart.

Marion Brown "Porto Novo" (Arista) This is an album in the acoustic jazz realm, considered on the "free" side of jazz. What draws me to it is it's sense of purposefulness and "relaxed intensity" in the trio, the clarity of the melodious songs, and a certain natural playfulness with Marion Brown on alto sax (with his humane tone) while he was living in Europe in the late 60's, with Maarten Altena bass, and Han Bennink drums.

Ornette Coleman "The shape of Jazz to come" (Atlantic) Ornette had the best titles, always ringing true as the pieces play, never ramming any opinions down anyone's throat. This is a holistic album with a form that seems part of the composition. The group plays incredibly well together and the feel is wonderful. Poetry, process, pain, satisfaction, with several magical moments.

John Coltrane "European Tour" (Pablo Live) The quartet recorded live in Stockholm with completely bewildering expression, flow and groovin' real high. I'm trying to imagine what my countrymen and women may have felt at the time… Aside from my own playing, John Coltrane is by far the musician I have listened to the most in my lifetime. As a consequence I've also listened so much to McCoy Tyner, Jimmy Garrison and the incredible groove of Elvin Jones! There was a long period in high school through college where I estimate I can count on one hand the days I didn't listen to some recording of this quartet. Another album – "Afro Blue/Impressions", a double LP, features the same quartet on the same tour playing mainly other songs. This is an album to use to raise the inner spirit, amen!

Miles Davis "Live Evil" (Columbia) Of all Miles albums this is the one whose energy and musicianship speaks to my body and mind directly. I don't listen to it much any more but the style of playing on it has influenced so much of my own free improv reflexes in the past. I used to put this on and get a little drunk, it turns up the heat inside. The "Cellar Door" box set part of this double album was distracted from is an interesting listen. Great cover art.

Deep Purple "Deepest Purple" (Harvest) Although this isn't a real album, it's a compilation, and the sound quality sucks due to cramming too many tracks on to each side, it's what I listened to in my youth. Most of the tracks still make me feel the same way they did back then. My favorite song is "Child in time", most gripping from beginning to end, lyrics about the nuclear threat.

Jack DeJohnette "Album album" (ECM) a favorite drummer and favorite album: great selection of tunes, New Orleans grooves, fun solos, great arrangements, a great album.

Esquivel! "Spaceage bachelor pad music" (RCA Victor) When you hear this you may think it's a joke, I did. To get it's effects across it uses musical exaggeration to ridiculous degrees, it's like the "ka-poooows" in batman, not subtle. Juan Garcia Esquivel was a Mexican band leader who you could say is the Austin Powers of music. He is considered a pioneer in the vague field known as "lounge music". If only lounge would be made with the same gusto today, with something to actually listen to, the mood in many public places: cafes, elevators, even lounges, would be way different as opposed to today's trend of simplistic, digital, minimum effort, detached, ice cold, mindless, pervasive occupation of aural space.
Fred Frith "Clearing" (Tzadik) The intimacy of the solo act has always been something special to me. Mr. Frith is a master improviser whom I've seen live many times (once playing a tribute to the then recently passed iconic British improvising guitarist Derek Bailey at The Stone). Striking about Frith is a subconscious, intuitive method following what I perceive as "one sound leading to the next". An amazing solo mostly-acoustic guitar album full of imagery, and as a guitarist, once you start tracing the steps of how he played what you are hearing it's pretty inspiring as well. On some of these cuts I have no idea how he does it. There is a nice video of Fred Frith and drummer Joey Baron, independently talking to an interviewer about playing music. Frith gets asked whether he is religious and answers "I believe in the mystery of life", a perspective I hold true myself. This is an insoluble existence.

Egberto Gismonti/Jan Garbarek/Charlie Haden "Magico" (ECM) A successful recording session of this Brazilian/Norweigan/American trio with haunting beauty and room for breath and dreaming.

Jan Johansson "Jazz på svenska/jazz på ryska" (Megafon) The keyword here is understatement. This album used to be a household item in Swedish homes. Folk tunes (on fiddle and so on) played with a jazz musician's approach. This mixture can often go horribly overboard and fall into pastiche and embarrassment. With Jan it's the most natural thing in the world. I miss understatement in a lot of things, and vulnerability.

Quincy Jones " The Deadly Affair" (Verve) Learned about this album as a friend and I went record shopping during a break from rehearsal. This is a soundtrack to a film from 1966 I saw recently.  The music is fascinating as it can be seen as a study in theme and variations. An infectous melody in 4/4 with a bossa nova groove gets re-arranged, re-orchestrated, milked to scenes of varying dramatic characteristics in this orchestra score, amazingly well put together. One feature of this irreplacable album's category is that they don't warrant "figuring out" on my part. In other words I'm happy just being intrigued, but in this case I couldn't help but to transcribe the main theme.

Kebnekajise "II" (Silence) Like Jan Johansson sometimes did, Kebnekaise playes Swedish folk tunes and make them come out differently. This band was a 60's communist one that played prisons and outdoor festivals in a rock band format. The harmonies often associated with the music sound lovely on multiple electric guitars.

Loincloth "demo" This isn't an album either but a really great 4 tracks used on a demo. Instrumental metal from Virginia, pulling at me.

Mahavishnu Orchestra "Birds of Fire" (CBS) This music has a stern tenacity and control that both attracts and repels me, it's so mathy but the energy and playing is so sharp and turned on it means a lot. Definitely an influence on my writing.

Olivier Messiaen "Turangalila" (Deutsche Grammofon) Listening to this is pure Science Fiction, Messiaen's particular harmonic habits, beauty involving dissonance, emotional scope and a myriad of awe-inspired episodes. Magic.

Metallica "Ride the Lightning" (Elektra) As for so many others this music struck a chord in me when I was in my youth. After school some days, I remember listening to this daredevil, concerned, urgent, dangerous music with a friend, getting goose bumps and being transported from our normal schoolboy lives to a different world of electrifying expression. I still think it has some of the best sinister riffs in the world, in "For whom the bell tolls" for example. Metallica took me on a trip through a fantastic world filled with excitement at every turn. I've gone back to it over the years and dig the energy, the journey happening because of how well the songs are constructed, the melodious sections, the searing guitar tone, the singing style of James Hetfield, and general lyrical theme of discontent and seeking answers, resonating with many a youthful yearnings.

Charles Mingus "Ah Um" (Columbia Records) Such a great jazz album. There is a thread that never breaks running through it song to song. Great song titles (some of which were politically corrected by the bosses to fit the racism of the day, and lyrics omitted for release on the market).

Thelonius Monk "Thelonius himself" (Riverside Records) Here it's as if you are sitting as a little kid next to Thelonius himself on the piano bench. Taking his time selecting his next choice, playing cat and mouse with the listener and maybe himself. A gift from my brother.

Milton Nascimento "Lô Borges-Clube de Esquina" (World Pacific) I recently was given this album as a gift. The songs are of such a variety and inviting tone that it's addictive. There is also some collage pieces that suggest political, militaristic threat. I don't know because it's sung in Portugese but the music speaks like that.

Tito Puente "Cuban Carneval" (RCA Victor) The only Tito record I have, gets me going  and happy everytime. Guaguanco!

Terje Rypdal "Whenever I seem to be far away" (ECM) It's virtually inconceivable to imagine a record label (or whatever entity) investing money in a product such as this today. Side A features a magical, funky music wonderfully composed with French horn as the main voice next to Terje's great guitar playing, mellotron, fuzzed out electric bass and Jon Christensen on drums. Side B features a kind of romantic through composed piece for electric guitar, oboe, clarinet, and a German string orchestra. Makes me happy it was possible to do at one point in time, 1974!

Elliot Sharp "In the land of the yahoos" (SST) My introduction to Elliot Sharp happened by reading a short article about him in a magazine in the 90's. The thoughtful statements sparked my interest so I went to the record store to buy whatever I could find. It was this album that introduced me to his work and the whole Downtown scene in New York in fact. I had never heard anything like this before; oddly programmed drum machines, various fragmentary entrances and exits on various instruments over a machine-like loop, and an overall impression track to track of "a little bit of this and a little bit of that" while still holding together as an album. This isn't about wailing or development, it's a kitschy collage I find charming and unorthodox. Having worked with him a few times over the years I continue to admire his thoughtfulness and dedication to music, an artistic individual following his own course.

Wayne Shorter "Odyssey of Iska" (Blue Note) In 2013 I was asked by British record store "No Magic Man Records" to contribute my thoughts on an album that has meant a lot to me, the full posting: http://www.nomagicman.com/blogs/hocus-pocus-focus/9028773-guest-blog-anders-nilsson) Here is what I wrote:
This is a beautiful thematic album recorded in NYC in 1970, released on Blue Note Records. The theme is the wind (Iska), leaving no trace in it's path, immeasurable and eternal. Right after Shorter stopped playing with Miles' band he made a few great albums; Moto Grosso Feio, Super Nova, and Odyssey of Iska. I've listened to this one very many times ever since I bought the LP in the early 90's. Wayne's words included in the liner notes are poetic and totally believable when you listen to the music = no jive or pretentiousness. The music has a feeling and sense of selflessness, honesty, quest and truth, that I find disarming and holds my attention throughout. The orchestration is put to good use: Shorter – soprano and tenor sax, Gene Bertoncini (later my teacher for a while) – guitar, Dave Friedman – vibes and marimba, Ron Carter and Cecil McBee – basses, Billy Hart and Alphonze Mouzon
– drums, Frank Cuomo – percussion.
Every musical voice involved has its particular place or role and is able to move freely at the same time! There is really great deep calm and beauty in the more serene parts, as well as fiery release in places. To me the motion of the music and the sense of it's players being moved to fine heights is deeply felt, maybe you will feel it too. The recipe made for lots of magic to take place and to be captured on record. Very few clichés or short-sighted ego-laden blowing here, no formulas! Gene told me Shorter asked him to echo him, react and answer his own playing, something which he did so well. Gene was asked to join Weather Report shortly after this session, he was flattered but turned it down!
The album "Super Nova" featuring John McLaughlin, Sonny Sharrock, Chick Corea, Miroslav Vitous, Jack DeJohnette and others is by contrast more muscular and wilder and also amazing. This album has been an influence on my writing, playing, and relationship to music, for example on my 7-piece cd Anders Nilsson's AORTA Ensemble (Kopasetic Productions).

Ravi Shankar/Alla Rakha "Sound of the Sitar" (Angel Records) Among the Indian albums in my collection this is my favorite. The playing is fierce, free spirited, and the music lifts off high while so tightly structured.

Ali Farka Toure "The source" (World Circuit) There is a unique sound to this stule of guitar playing, and an incorruptible groove through this album, including a solo track that is simple unbelievably beautiful.

Boubacar Traore "and his guitar" (Mississippi) There is the kind of album you put on because it has one mood throughout. This is a wonderful soft album like that. Malian singer/guitarist with a great vibe.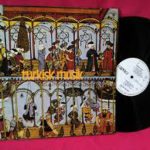 "Turkisk Musik" (Caprice Records) In the 70's (and again now) the state- owned Caprice label released a number of albums intended to introduce a sample platter of music, and an informative booklet about the culture itself, of varoous countries. I found this Turkish one at a library sale. It was here I learned about the bağlama, surna, and several other instruments. The tracks were tracked a la field recordings, with local maestros across the land. A wonderful educational series produced at a time when the country only had 2 state owned tv stations and cultural variety wasn't as easy to get. Not unlike similar productions on Elektra Nonesuch.

Anton Webern "Sechs Stucke für Orkester" Opus 6. (Deutsche Grammofon) There are many pieces from the early days of the Second Viennese school that really fascinate me and that I dig over and over in their own right; Schönberg's "Die Gluckliche Hand", "5 Pieces for Orchestra", "Jakobsleiter", Alban Berg's "Wozzeck" and "Lulu Suite", but out of all of them I've spent the most time with Anton Webern's "6 pieces for Orchestra" opus 6 from 1909, written in Austria when he was 26 and trying to deal with feelings associated with the passing of his mother. The work is extraordinarily gripping on a soulful level, resonating on an emotional level, and is a great work featuring constant shifts in tone color, a characteristic associated with these composers around 100 years ago. There is so much attention to detail in this music, every note counts, yet it's utterly unpredictable. When I try to listen analytically and follow along in the chromatically rich music by ear, I quickly lose my place, but it certainly has improved my distinction and vocabulary in the free tonal realm. I like their pre-12 tone music better because I feel it written more like an improviser plays, although carefully measured in the case of Webern. The brevity and articulate pieces make for powerful expression and intense movements, bypassing the intellect. I am not much of a collector but I have developed a rare hobby buying different LP-versions of this short work. My favorite recording so far is by the Berlin Philharmonic under Herbert von Karajan on Deutsche Gramophone, a recording that Staffan Storm, a teacher at Malmö Academy of Music, gave to me on cassette when I was writing a paper on the piece in the mid 90's.

Tony Williams Life Time "Turn it over Redux" (Verve) The classic album was released on Verve with so-so sound, Bill Laswell remastered it and included several new takes and unedited the shortened releases. Imbedded is youthful and social tension, fire and anger, and the will to wake people up. Prog-era expression with musical intelligence and politics without words. Killer.

Stevie Wonder "Songs in the key of life" (Tamla) My wife took us out to hear this album performed live at Madison Square Garden in 2015. It was very uplifting and engaging… i had of course heard this double album before but it has taken on a lot more meaning now. Especially side 4 with "As" on it.

Frank Zappa "Joe's garage" (Zappa records) My favorite musical so far, what a story, countless memorable lines, sarcastic and frank music drawing from a million things played by a great band, including a very soulful FZ solo on "Watermelon in easter hay". Just a masterpiece.

Frank Zappa "We're only in it for the Money" (Verve) This always puts me in a good mood. Mind blowing creativity, satire, good music, "Flower power SUCKS"