Bio: Anders Nilsson is a Swedish New York-based guitarist, composer, improviser and teacher. He plays electric and acoustic guitars, bağlama, and a nylon 11-string alto guitar designed by Georg Bohlin. His output spans a wide musical spectrum ranging from solo shows ("Night Guitar"), Anders Nilsson Group (a rhythm-heavy band in NYC),  a trio with saxophonist Michael Attias, and bassist Ken Filiano, Anders Nilsson's AORTA (a jazz-rock type band in Sweden). He is also a band member in several groups playing jazz or improvised music. After receiving a BA from Malmö Academy of Music and having worked as a musician and guitar teacher in Sweden for a few years he moved to New York in 2000 and got his MA from CCNY. He has performed and/or recorded or toured internationally with many artists associated with the blues/jazz/experimental paradigms such as Kalabalik (with Raoul Björkenheim and Gerald Cleaver), Paquito D'Rivera, William Parker, Elliot Sharp, Eugene Chadbourne, Fay Victor Ensemble, poets John Sinclair and Bonnie Barnett, art-metal band Angelblood, and Persian musician Mohsen Namjoo. Always welcoming of interdisciplinary interaction, he has collaborated with Butoh artist Akira Kasai, theatre director Doris Mirescu and video artist Arrien Zinghini. Nilsson's work as a composer includes music for short films, dance performances, string quartet, theatre plays, as well as a constantly growing book of over 80 compositions including brief to epic works for solo guitar, jazz, to large experimental ensemble works. Many of these works have been released on several acclaimed albums. He has taught over 1,000 guitar students of all ages at a number of schools and in private.
I extend endless thanks to the many special collaborators I've been fortunate to work with over the years including;
Drummers: Peter Nilsson, Michael Evans, Tom Bruno, Satoshi Takeishi, David Nuss, Lou Grassi, Michael T.A. Thompson, Jeff Arnal, Gerald Cleaver, George Schuller, Hamid Drake, Vinnie Sperrazza, David Gould, Tim Keiper, Michael Wimberley, Kevin Shea, Calvin Weston, Antonio Sanchez, Lukmil Perez, Martin Brandquist Bassists: Ken Filiano, David Carlsson, David Ambrosio, Joe Fonda, Michael Formanek, Matt Heyner, Reid Taylor, Kermit Driscoll, Felipe Cabrera Cardenas, John Benitez, Ed Schuller, Mark Helias, Francois Grillot, Stuart Popejoy, Ratzo Harris Cellists: Tomas Ulrich, Fred Lonberg-Holm Violin: Sarah Bernstein, Charlie Burnham Keyboardists: Sebastian Schunke, Daniel Kelly, Evan Gallagher Trumpeters: Tomas Hallonsten, Matt Lavelle, Roy Campbell, El Indio, Ralph Alessi Saxophonists: Mattias Carlson, Sabir Mateen, Daniel Carter, Ras Moshe, Michael Attias, Darius Jones, Sven Andersson, Cennet Jönsson, Sam Newsome, Tony Malaby, Helge Albin, Henrik Frisk, Mats Gustafsson, Martin Kuchen Clarinetists: Paquito D'Rivera, Perry Robinson Vocalists: Fay Victor, John Sinclair, Bonnie Barnett Percussionists: Chris Tunkel, Burkhard Beins, Brahim Fribgane Guitarists: Gene Bertoncini, Raoul Björkenheim, Aaron Dugan, Elliot Sharp Banjoist: Eugene Chadbourne Tubaist: Jose Davilla The world's only Flexicordist: Herman Müntzing
A walk down memory lane of dormant/classic bands –
USA: Annette Guh, Gunnar, Manape, Jötnar, In the Ozone, Under Satan's Sun, Angelblood, E 3rd Street Ensemble, Daniel Kelly Quartet, Lena Tjäder Trio…
SWE: Mechanical Birds (Kuchen/Nilsson/Beins), NoTone, Control of Space, Major Seven Guitar Big Band, Split Vision Big Band, Riff Raff…
My story……
1974-2000
Beginnings – Path of least Resistance – One of the most FAQs I get is "how do you say your name?" It's pronounced [Unders]. It's a very common name in the Nordic countries where it, according to Norse mythology means "man" or "male", lucky me. There are a few Anders Nilssons of fame; the hockey goalie, the composer, the film maker, a trumpeter, possibly others, that's why I call the site andersnilssonguitar. I grew up in Eslöv, Sweden, a town of about 20,000 people in the southern part of the country; Skåne. My parents, Ingvar and Karin, still live in the house where I grew up. They are kind and hard-working people, both now retired. Ingvar was a mechanical engineer and Karin worked with numbers. They like travelling, cooking, tending to the garden and probably quite a few other things too. They both have meticulous, conscientious personalities, are articulate, good listeners, and when they decide to embark on something they generally follow through with intention, persistance and patience. Gratefully I'm able to say they've always encouraged me in my pursuits. At age 2, I got a kid brother named Peter, and we developed a report that keeps growing to this day. My grandparents had a farm about 10 kilometers away that was a lot of fun to go to. I am very lucky to have come up under such pleasant conditions.
My father used to strum guitar on tunes like "House of the Rising Sun" and my mother used to play a little piano. Some fond memories of music they listened to include Glen Campbell, Elvis Presley, The Beatles, Creedence Clearwater Revival, ABBA and a few other Swedish acts such as The Boppers and Trasan & Banarne. Culturally speaking, traditional folkloric Swedish music is largely shoved under the rug by the natives and treated as a museum piece. Upon hearing it live as a kid I thought it was corny, ancient and irrelevant compared to what thrilled me then – marketed mainstream American and British music in a rock band format. Later in life, after having distanced myself from my native soil, the music from my native place started meaning more, roots. When you are in 3rd grade in the Swedish school system, you can pick up recorder, which I did. After a year-long weekly class you get tested on your musical ABC's, knowledge/labelling of notes & rhythms, ear – repeat after me etc. You get to list 3 desired instruments to pursue the following year. One gets selected based on the rating and availability of slots at the school. My first choice was piano but my score wasn't good enough for that, so I got my second choice – the guitar.
The choice of guitar obviously had to do with its presence in my immediate surroundings – at home, on TV, album covers, often admiring its sound and design. From age 10 on I took weekly lessons, enjoyed it enough, didn't practice too much, homework didn't require much effort, but I was luckily influenced by an older friend who showed my things and kept raising the bar, along with my awareness of things. I listened to, and had posters on my wall of AC/DC, ZZ Top, Deep Purple, Metallica, Led Zeppelin and so on. Through music school – kommunala musikskolan, a teacher got a few of us into a "rock band" that I named "Riff Raff" (after the AC/DC song) which of course was very exciting and eye-opening. We had a lot of fun in the basement, inspired in part by the legendary Philemon Arthur and the Dung (best known for the song "In kommer Gösta" and for causing a scandal among real musicians and the establishment upon winning a Swedish Grammy in 1972) of the school and played a few shows during those years inspired in part by the legendary Philemon Arthur and the Dung (best known for the song "In kommer Gösta" and for causing a scndal among real musicians upon winning a Swedish Grammy in 1972). By this time my brother had started playing the drums, and an insatiable appetite for more and more music was established and continued to evolve between the two of us.
Teenager – In fretful Evasion – Around age 13 I was introduced to the fretboard frenzy of Swede Yngwie J. Malmsteen (Yngve Malmsten de-hottified) whose angry and blazing harmonic minor scale shredding made a huge impression on me. He was my guitar-God and had made it big in the States. To me he left the other athletic guitarists of the 80's like Joe Satriani and even Steve Vai in the dust, as he was my chosen idol. I plucked some of his licks off of the "Rising Force" and "Marching Out" albums, and on December 10th 1988 at age 14 went to see his band play at Olympen in Lund. It was the first big rock 'n roll show of my life. Well….. that experience killed my interest in him and his music, all I could hear was an overabundance of distorted guitar blurring the notes and too much showing off – guitar tossing, picks being flung to the audience etc. He also had a cheesy American singer involved and they played a few of their catchier hits which I had hoped wouldn't happen. I felt that the aim of the performance was to please the crowd through those types of cosmetic actions and sing-a-long-friendly familiarity as opposed to playing some music that is gripping, intriguing and counts. Over the years my attitude towards the art of music hasn't really changed much from this position.
During this time I was habitually skimming through "Guitar Player" magazines and was exposed to more eclectic music; American blues such as Muddy Waters, Stevie Ray Vaughan, Jimi Hendrix, and Frank Zappa's various works. Some of Zappa's music got to me like nothing else had before, mind-boggling things were going on. Some of the first ones my brother and I got our hands on were "Jazz from Hell", "Ship arriving too late to save a drowning Witch", and "Tinseltown Rebellion". Apart from the mere sounds and singing causing bafflement and laughter, what I perceived to be the band's attitude to music-making made me question and wonder what is allowed in music and how far one can take it. Around this time I hated jazz and didn't want to hear it because my limit-setting ego was still in the rock camp, but through a teacher; saxophonist Per Bäcker, I was gradually introduced to it. Around 1989 the most easily noticable jazz was called fusion, so I got into it through some Swedish guitar players: Anders "Chico" Lindvall and Ulf Wakenius, and listening to my first Miles Davis LP "Decoy" with John Scofield on it digging into his kinky phrasing which I loved. Within a short span of time I was hooked on saxophone master Charlie Parker and later John Coltrane. Per also successfully led a big band at the school which was a lot of fun to be in, and I'm glad the opportunity arose to play in a large ensemble at that early age. It was getting clear to me that I wanted to be a musician, a very good one.
Turning point – Set on this simple goal and fueled by thirst for knowledge I went on to a Music High School in the city of Malmö for 2 years, between ages 16-18, and started practicing and transcribing solos pretty intensely. I studied electric as well as classical guitar (Villa-Lobos comes to mind) and met Stefan Östersjö, a leading new music guitarist, who I was lucky to have as a guest teacher. Playing classical guitar pieces was the first example of solo guitar performance set to me. My ears and comprehension were developing as I was focusing on the vertical/horizontal language and syntax of music in general – harmonic and melodic ideas especially. My electric guitar teacher at the time, Thomas Hallberg, gave me a lot of good stuff to work on and he could see the hunger and stubborn one-sided nature of my increasingly chromatic efforts. During one memorable lesson he asked me to "play something without thinking"… It was confusing, challenging, and rewarding at the same time, and it was a break from what previously absorbed my mind. I needed to hear that. The cerebral focus on melodic/harmonic materials had to be balanced by listening to the ebb and flow, tension/release, simplicity/complexity, and spontaneity/force. The way to accomplish this was to take a step back, slow down the process, simplify the content, listen, and enjoy, in short – connect. A first introduction to the yin and yang concept. This mindset relaxed me, and the attachment to what I was doing on the guitar changed. That lesson opened me up and I realized that it wouldn't be the same anymore, thanks Thomas! A fond memory from this time period is watching David Lynch's cult-classic "Twin Peaks" on Swedish TV which I was hooked on in '91 along with my mom. This was the first time I found myself enthralled by events taking place in layers, levels, and subcurrents, it blew my mind twenty years ago.
Merely playing the Part – As high school ended I was admitted right away to a "jazz studies" program at Malmö Academy of Music and moved to my first apartment. It's a 4-year program, which at any time in life is a very long time to study at a school. Although the institution was strange and the education undefined I did learn some good stuff from a few teachers, especially saxophonist Helge Albin, who like me felt suffocated and alienated in this environment. "Don't play before the feeling" he said. I continued practicing, immersing myself in music on my own, and jammed with fellow students. I was eating up a lot of different music from the library and buying a plethora of recordings – mostly jazz after 1960, especially Coltrane's, Nordic jazz (fjälljazz) on ECM Records like Terje Rypdal and Jan Garbarek, Allan Holdsworth's music, contemporary avant-garde music etc, almost entirely in Western and African-American traditions. I was curious about "new music" and often went to concerts held by Ars Nova at the Academy and still pursued studying the classical guitar repertoire somewhat (Bach on the 11-string alto guitar, plus 20th century stuff by Brouwer, Walton, Smith-Brindle etc). But, focusing on jazz music made my head belong to the jazz camp for now. I took a break after 3 years, to work in the band of a theatre group and to study a little psychology at the University in Lund, after which I came back and finished the last year of my college education with improved focus.
The Luxury of Choice – After college, it was certainly time to get cracking. No longer could postponing making a living for myself go on so I started giving guitar lessons, part-time, I also got offered random jobs as a guitarist here and there. For a while now I had been enjoying playing regularly in a free-form band called "Control of Space". We played in a recording studio and taped countless sessions on reel tape. Playing and listening back to the sessions really helped develop my ability to hear "the bigger picture". We often listened back to what we made up right after we played it. The tape was reversible so we also listened to what we played backwards as well. Frequently the linearity of the guitar lines sounded just as interesting, good or bad in that direction. This is a realization I've kept and adapted in my playing and composing to varying degrees later on. Sven Andersson played sax, David Carlsson bass, and Martin Brandqvist drums/alto sax. Between 1995-1998, we played frequently and developed something quite unique I thought, although we only did about 2 gigs in 3 years. A favorite hobby of the bands' was pinball. David and I continued experimenting with bizarre electronic effects in a duo imaginatively named "AD". My interest in improvisation and its possibilities led to meeting saxophonists Mats Gustafsson and Martin Küchen, Martin Klapper, Andreas Axelsson, and the only flexicord player on the planet Herman Müntzing. Trips to Berlin led to making friends including percussionist Burkhard Beins. I got involved with the organisation FRIM and started FRIM-Syd together with a few other people. In '99-'00 I participated in a few improvised music festivals at Fylkingen in Stockholm and was sort of exploring an unpredictable and non-compliant attitude to making music. Following the path of more resistance I wanted to be anti-niche, identity-fleeing/seeking in a love-hate relationship with the known. My mind was for the time being finding a foothold in an Angst camp of expression, where the elements didn't mix very well and the nature of the playground was too small and discerning. It's a dissonant place, but pushing myself into a corner was a very good personal extreme to face. In the summer of '99 my brother and I visited New York and got really turned on and upbeat at the Bell Atlantic Jazz Festival taking place at the Knitting Factory where we heard Pharoah Sanders and many others.
2000-2005
Johnny come lately – By the time I decided to move to New York City in 2000 I had visited the city 4 or 5 times. I was attracted to the lively and edgy improvisational music scene. I had made a few musician friends and felt inspired to immerse myself in this type of culture. I started playing with a group called "East 3rd Street Ensemble". They were getting together once a week in the east village to make music on the very block where Sun Ra, Dave Burrell and Sonny Sharrock used to reside. Slug's Saloon used to be further down the street. This was Free Jazz ground. This encounter was very important to me and I continued playing with them weekly for about 2-3 years. The group included Sabir Mateen on horns, Matt Heyner on bass, David Gould on drums, James Duncan on trumpet at first, and later Ras Moshe and Matt Lavelle on horns. The very first jam knocked me off my feet as I felt I had blown my load pretty quickly, while the music kept on rising around me. A general difference from the jam sessions I was used to back home was the level of intensity, density and affection. These players kept the music fueled by continously playing and interjecting complementary chapters and interlacing voices. It was a flow of ever-changing sound that one had to find and relate to somehow. Quickly I realized that whatever accumulated knowledge I brought in with me, my ear and musicianship ammo weren't enough, or necessarily even relevant! to what was coming at me here. Realizing that normalized, studied type of information and obtained skill was not to rely on, but rather to be bypassed and jumped off of with all you've got, both challenged and gradually opened me up to approaches other than those within my comfort zone. During part of my stint with the East 3rd Street Ensemble I was getting my MA in jazz performance at City College uptown. I used to have classical analysis class just before or after this session on Wednesdays and take the subway to and from the session. During that class we analyzed Haydn string quartets and things in a very established manner. Yes, of course that's what you do in order to be equipped with the tools to become a master of jazz performance! The difference in spirit and mindset was quite comical and absurd, but in retrospect not that strange after all. In improvised music it's up to the player to put personal shields aside and allow for open expression and contribution, to say something. In Alice Coltrane's words – "You have to give something". Music has to be felt, it is vibrations. In the case of improvising collectively with this group the spirit was to boldly and freely express yourself together, burst open and keep tapping in, adding. The message here is: "You are the Music!" It's about the core.
Pungent punk – Right after 9/11 happened I flew to Sweden to do a short tour with a band called "NoTone" consisting of Herman Müntzing on bass & flexicord, Henrik Frisk on reeds, Peter Nilsson on drums and myself on guitar. The tour was a double whammy of us and Marilyn Crispell Trio with Anders Jormin and Raymond Strid. Our freely improvised flights were like fairly abstract dramas. Although the instrumentation was jazzy and standard, the result was definitely not cliche. We were pushing and pulling all over the place! Returning to New York was a different experience, the city was hurt, and on top of that the Bush era was starting to really take form and the incredible madness was irritating and affecting everybody, a legacy that still is going on as we are painfully aware.
Everyday Fluke – I was living in an apartment on the west side in Harlem, had 2 roommates who were studying music at CCNY like me. Soon I received my Master's degree there and although it was a jazz performance program the primary focus was on Western classical music; sonata forms, analysis, vocabulary, that sort of off the shelves thing more than anything else. The agenda was an under-evaluated, unrounded and overly academic program which was obvious to some of us students. However, I was getting a kick out of private guitar lessons with Gene Bertoncini, who was familiar to me from one of my favorite albums – Wayne Shorter's "Odyssey of Iska". He is a very experienced and great solo performer, and I picked up some useful attitudes and ideas from him, it was a lot of fun. In the apartment we would host jam sessions in the living room and I got to meet and play with a whole bunch of people this way, some of whom remain present day collaborators – horn man Daniel Carter, bassists Kermit Driscoll, Ken Filiano, Francois Grillot, drummers Jeff Arnal, Lou Grassi etc.
Break all the Rules – In 2002 I was hanging out with Matt Heyner one day and met Mr. Tom Bruno. Tom and I were introduced playing for change in the subway station Astor Place. I had never before played in a setting like that, but the two of us did it many, many times there, and at Times Square (a tough spot), Penn Station, and my favorite one – Grand Central Station. Tom's drumming style is quite personal and intriguing, and he takes solos like nobody else, Mr. Free. Playing with Tom and playing in the subway liberated me. When you're out there you have got to project and keep it up, play from the gut more than the brain. He also encouraged getting inspiration from everywhere around you, wherever it may be, in whatever form…. I found the experience a great stamina builder and my facility of expression improved. Gradually my playing was getting more dramatic, spiky, bluesy and independent, I could feel my core way of playing getting manifested. Also, out there in "the street" you gotta have a sense of humor, be "merry and bright" which Tom inspired. There is a recording of us playing a gig available, it's called "Bootleg 1″ on cd-r. Sadly Tom passed away in 2012. Other collaborators at this time, and still, include saxophonist Ras Moshe, whose ongoing work on the scene is an inspiration. His playing and writing is both beautiful, raw and from the Heart. Trumpeter/Bass clarinet player Matt Lavelle writes music like nobody else, totally different from mine. The core of his sound, the search, along with a vivid imagination makes him a stand-out player. At this time I was starting to read a lot of pulp fiction and watching film noirs, buying all sorts of interesting music, getting cds from around the globe from the performing arts library.
Consistently inconsistent – Another collaborator and idea man with whom I crossed paths was Evan Gallagher, keyboardist/composer. The two of us got together to have Indian food, and soon we were coming up with pretty wacky compositions. His mind works differently from anyone's I've ever met. He instinctually would find a way to "fix" a melody or rhythm to make it less straight or stock; more individual, with one foot in improvisation and the other in new music. Soon our sessions turned into attempts at playing his music and the results tended to turn out as a fine mash of grooves and "fixed" grooves, quirky melodic and harmonic usage. Years later, I've been asked to play pieces of his, which tends to be a hilarious and challenging experience.
Zelig tickled Pink – Pianist Sebastian Schunke and I met in New York and became good friends. He lives in Berlin and has pulled together quite special groups, often combining Latin rhythmic dialects with a beautiful melancholy lyrical style. Several times, I've been invited to perform with his band in Germany and in California, and to play on 2 recordings of his. "Mouvement" was made in '03 at Tonstudio Bauer and generously includes a version of my tune "Reminders". The second one "Back in New York" from '08 features Paquito D'Rivera on clarinet. Immediate contact with Latin rhythms was a new chapter for me, and inspired taking a plunge into the rhythmic languages and musics all over the planet. Feeling like an eternal rookie is a wonderful surrender! Since then African, Spanish, Turkish, Indian, Japanese and Iranian music that I've listened to are all traditions of great interest to me, naturally synced with the bigger picture of their cultural place and the history of their environments.
Marooned with heaving Pockets of Hair – After returning from an eventful summer in Sweden in 2003 (see more on AORTA page) I was starting on a new foot in New York. I was enticed into "Angelblood", a kind of crazy Metal band with one foot in the visual arts world. I replaced guitarist Mick Barr starting with a show at the DeStijl festival in Minneapolis. Later we played at European festivals a couple of times, All Tomorrow's Parties in England was one. It was a band with various edges and clashes that made the performances have their own special charge. Musically it brought me back to my early days, and I was embracing the metal guitar angle happily. To me there is no dissonance anymore between the worlds of improvisation and playing pre-set music, all music that attracts me. For example free jazz and heavy metal can connect through their expressiveness sometimes. I had an AHA-experience as a teen hearing Kerry King of Slayer play solos that are seemingly arrhythmic, tonedeaf and cacophonic, totally independent of the song structure and beat. However, as soon as the solo is over he returns straight to the groove. The drummer in Angelblood was Dave Nuss, of "No Neck Blues Band", who after it disbanded started the band "Under Satan's Sun". The line-up was two female singers (sisters Silvie Jensen & Chloe Puke), two guitars (George DeVoe and me), Arik Roper on bass, and Dave on drums, compositions, lyrics. Although the two bands differ greatly, the melodious nature of the songs, male/female line-up, and metal type of arrangements are common bonds.
2005-2015
It's the frame growing larger – In 2005 it was time to leave the Harlem space and move to Brooklyn. As a consequence I started hanging out with Brooklyn people, the borough is endless. One of my favorite local places is a bar called Barbés that has a backroom with nightly acts. Quite a lot of the NY music scene lives in bars like these. By now I was playing pretty regularly on the scene. Aside from playing the instrument and the music at hand, a facet of performing that I hadn't given enough attention to started surfacing and demand re-thinking. As opposed to using our instruments as tools for contact-surfaces with the exterior spheres, a lot of musicians fall into using their instrument as a shield and safety zone. Thanks to playing in the hectic subways I had been able to take a personal first step beyond a line of introverted focus/uptight exterior. Rather, playing had by now become an energizing, opening, and giving activity. Finally I had to laugh at myself and this invisible wall I had built up as it started disappearing. A lot of this shield-business has to do with silly expectations and a character that "needs" to be lived up to, as if the only way is to "be yourself" is by putting on a mask in order to "be somebody". If you listen to a speech given in a scientific or technical way, you as an audience member are also bound to receive it on that level. Compare that to a speaker appearing spontaneous and engaging; the impression is very different, and chances are you'll walk away feeling like you've had an experience rather than getting some information. These days, to me, a successful gig is one where there is connectivity, release, belief, and sharing.
Instrument beyond the instrument – Along with experiences of this enlarging frame comes the realization that music itself is a dynamic surface of sorts. I like to see it as vibrations or "pockets" of vibrations. Pitch, rhythm, and tone color all mesh in this field. An ultimate aim is to play the right thing at the right time with the right charge. To be able do that one needs to be in tune with the bigger picture. The instruments are playing themselves, beyond the physical instrument and the know-how there is another instrument of wavelengths, feelings, impact, and vibrations being played and playing with you. If music is a present dynamic energy field, musicians take jabs at, and manipulate this field of responsive energy. Yin and yang. Seen this way, making music is like dealing with qualities rather than ideas. All instruments and voices can associate with this organic relationship and through them we tickle the Muse from multiple angles with our thoughts, impulses, and chance. It's like anything else, and on a good night it lets you forget the time/space axles we are in.
Gunnar – One of the groups that had it's own vibe for the few years it existed, roughly 2007-2010, a trio consisting of Reid Taylor on electric bass, Madhu Siddappa on drums and myself on electric guitar. We'd get together in a rehearsal spot in a basement, playing from below. Yes, this instrumentation brought out a free rock oriented aesthetic in us, with attempts at establishing repeatable riffs, while flailing independently in non-compromising inner flights independently. We played pretty loud, louder than I'm used to, and did a few gigs, one at Glasslands in brooklyn on Obama's inauguration night stands out in my memory. Here is something I wrote about it in our "heyday":
Hungover Poetry – (1st installment):
++Electric Christmas++
A giant electric Heart suddenly erupts from below the Frost of the Earth,
throbbing with that special Care for our feathered Friends,
the furry Mammoth lurches senselessly as his Legs stay behind.
In the Afternoon the Carpenter shaves Balzac's Head,
the Dough carries a demure secret of Woo says who,
a dissonant Angel descends into the Mire with a bleeding Heart made of Sand
This Brooklyn guitar-bass-drums trio of 30-something-males delves into a quality that I barely was in touch with in my youth, although it somehow does have a "spiritual" connection with my early days of coming up with riffs and lyrics in the very first band I was ever in called "Riff Raff" in Eslöv, Sweden. Let's call this quality "sludge". Via the love for the electric guitar trio format Gunnar explores the terrain of personal funk, self-doubt, high hopes, quest, sporadic brilliance, and repetitious plunging in mud. The result is somewhat reminiscent of MathRock that doesn't add up and with the addition of occasional vocal ramblings the improvisational recipe has its unique taste, distaste, and message. Inclusive of risk-taking and shortcomings, Gunnar's story is a heartfelt one I believe. A leaderless collective affair featuring Reid Taylor on electric bass (also in "The Flail"), Madhu Siddappa on drums ("Dub is a Weapon"'s drummer), and my own self on guitar. On rare occasions a spoken word section bubbles up from the swamps of memory/present. Gunnar's possibly fictitious existence conveys small human circle patterns of resistance and bombardment of stimuli, sound familiar? Catch a glimpse here. Next!
Getting rid of ready mades – In my practice I aim to slow the process down and put things under the magnifying glass. A luxury of practicing is that you can observe what you are doing, and break things down. It's useful to take entities or ideas such as chords and rhythms apart, and use very small amounts of material to see what you can make with only the minimum. In the process of this type of work you may also find out what your "default" solutions are. These trained responses supply us with "choices" and back-up when it's a real life playing situation. Finding out that simplicity is not simple is a great lesson. "In the beginner's mind there are many possibilities, but in the expert's there are few." –Shunryu Suzuki
Expansion – Over the last few years my attitude has developed and I've gotten more curious about things I don't know yet. I have come to terms with the musical/cultural background I come from and am not trying to hide any sources from representation and gestation in my music – from AC/DC, ZZ Top, Charlie Parker, Blind Blake, Jan Johansson, Thelonius Monk, Olivier Messiaen, John Coltrane, Gnawa Music, Jack DeJohnette, Peter Green, Bernard Herrmann, James Bond music, Parliament Funkadelic, Arnold Schönberg, John McLaughlin, to Frank Zappa etc…all things and people I love. I embrace these disparate influences when putting together sets of my original music. Don Cherry is a role model for me as a band leader and selector of materials. His personal collage style of presentation: i.e. having an Ornette tune next to a Turkish tune followed by an Indian raga etc. is very inspiring and broke down whatever stylistic/idiomatic dogma or expectation of consistency and style might be perceived. I find this approach is a natural step for me, using content and ideas relative to my own experience that is. This collage or diverse menu-approach further encourages the nature and salient features and articulation of individual pieces, and results in me cultivating more sides to my musicianship. Allowing for clarity through diversity aids the sharing of musical ideas and composed pieces with other musicians as well as the listeners. During a recent solo show I went from "Stella by starlight" to a metal sounding original "Ax to grind" to a contemporary classical sounding piece "Variazioni su un monologo funambolico" played on my les paul. It's a trip with a common denominator. The study of harmonic/melodic and rhythmic patterns and structures is a large part of my practice. Adapting (a)tonal systems, finding good voice leading, apt sonic choices on the guitar, and mathematical rhythmic formations help give definition and variety to my music.
Fulminate Trio –
The downloadable album "Triangulation" is here: https://fulminatetrio.bandcamp.com/ "All I can say is – wow! This is a most impressive trio offering that appears to defy categorization and remain engaging throughout." – BLG/Downtown Music Gallery
Michael Evans -drums Anders Nilsson-guitar  Ken Filiano-bass Both of these gentlemen have directly inspired me by their respective examples of being to go beyond a "technical" point of view of music, and enrich the story, meaning and purpose of making music. An unintentional evocation of spirits sometimes occurs when we hit the appropriate pockets of vibration, in any case it's a transporting type of music we tune in to. Fulminate Trio was around from 2006-2016. We made two trippy records not for the faint of heart: "Fulminate Trio" (2007) & "Triangulation" (2014), and generally performed free-wheeling trio improvisations in northeastern Usa, though sometimes with guests Fay Victor or Scott Robinson. In 2008 we went to Sweden to participate in KopaFest, resulting in the cd Anders Nilsson's AORTA Ensemble (see discography).
Press release: With these gentlemen on the edge of their improvisational seats, allowing their future musings to connect and disconnect. As much influenced by Alice Coltrane's organ music, Sonny Sharrock's "Black Woman" period, Tony Williams' Lifetime, Duke Ellington, Japanese folk song, Bernard Herrmann and ordered forms of chaos, their audio < > poltergeists hover, dart, collide, transmute and fly unison in and out of auditory focus.
Here is a review of our first cd: "This daring trio of drummer Michael Evans, guitarist Anders Nilsson and in-demand free-jazz bassist Ken Filiano operates on a delicate, acute listening dynamic for half of this experimental ECM-ish program (particularly on Carla Bley's 'Floater' and Nilsson's ambient 'Sound Fear'). But they are also capable of exploding with rock-fueled dissonance and bombast, as on Evans' 'Road Runner'. Filiano, a deep-toned anchor on upright, contributes extraordinary arco work throughout, while Evans shines in rubato situations, a la Paul Motian. And Nilsson is steeped in the renegade six-string tradition of Bill Frisell, David Torn, Terje Rypdal and Fred Frith."-Bill Milkowski/Jazz Times May 2009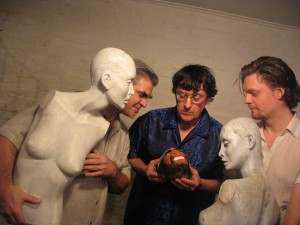 How can I make my body hard? – Vocalist Fay Victor put together a gang of characters to stretch, pull, amplify, and take a plunge in her musical vision. This crew was active 2005-2015. The often hilarious and thoughtful lyrics are in her own personal style and the songs, made in tandem with her husband Jochem van Dijk, vary in design as they constantly get shaped dynamically by the band. It's a pleasure to play with this group as everyone gives and takes, and more energy is ready to be added at all times. Fay treats her voice in the same manner as we use our instruments in these trips with the muse. The FVE has made 3 critically acclaimed albums and has performed frequently in New York at the 55 Bar, at the Vision Festival, BAM cafe, Roulette, and in other US cities. Ken Filiano is on bass and Anders Nilsson on electric guitar, initially Michael T.A Thompson was on drums.