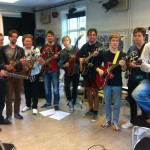 Welcome to NYC-based guitarist/composer Anders Nilsson's website. For booking, lessons. mailing list, please e-mail earraticart (at) gmail.com Thanks for reading & listening!
"Anders Nilsson, a guitarist & composer comfortable with everything from free improvisation to avant-garde metal, traverses ghostly mood-setting, bluesy twang and overdriven riffage" – Time Out
"Swedish-born and New York-based experimental guitarist Anders Nilsson produces music that is at once bracingly direct and utterly unclassifiable." – Matt Miller, tuneOUToptIN 
BUY CDs or Downloads in the DISCOGRAPHY SECTION AT THE TOP OF THE PAGE!
…A new juicy interview, or dialogue rather, conducted by my friend Matt Lavelle: http://matt-lavelle.blogspot.com
…AORTA played its first gig in 3 years April 9th At fasching, Stockholm, new music, same gang, hope to play more frequently with these titans! During a brief visit to Sweden I also had the opportunity to hold a clinic at Fridhems folkhogskola for 8 good guitarists (see thumbnail above), and appear in an ad hoc improv group, at a gig arranged by FRIM-syd, lots of fun!
Watch the latest Video!:
Latest NEWS…..
…2/24 Fulminate Trio recorded a batch of new composed and improvised music, felt real good, stay tuned for potential release…
…12/1 Interview in Prepared Guitar! http://preparedguitar.blogspot.com/
…10/30 Elliott Sharp asked me to contribute a solo recording for an upcoming compilation of XXI century solo guitar music. In his studio I recorded "Variazioni su un monologo Funambolico". Cd due out on Cleanfeed!
…Sept. 10th '13: No Magic Man, a UK record store, asked me to write about an album that has been important to me. I picked an all-time favorite – "Odyssey of Iska" by Wayne Shorter. http://www.nomagicman.com/blogs/hocus-pocus-focus/9028773-guest-blog-anders-nilsson
…in 2013 several new solo pieces were composed for electric guitar and for alto guitar. Some were premiered in July, video footage from Barbes is available on the video page.  
…participated in Omi Music International July 18th-August 4th!
…."Exit Strategy" - a trio consisting of Anders Nilsson on guitars, Francois Grillot on bass, Jay Rosen drums recorded an homage album to Rod Serling this June for C.I.M.P Records 
 …Nilsson/Fonda/Nilsson's cd "Powers" is out on Konnex Records! guitar trio record (in discography) http://steptempest.blogspot.com/2013/02/3-x-3-february2013.html
….The DEBUT RECORDING of HOT & COLD "Hogwild Manifesto" is now released! 3 years worth of musical dialogue & investigation performed on electric guitars: http://aarondugan.bandcamp.com/album/hogwild-manifesto
Review:http://thewholenote.com/index.phpoption=com_content&view=category&layout=blog&id=51&Itemid=49
Hot & Cold on WFMU: http://m.wfmu.org/flashplayer.php?version=2&show=48352&archive=83497