NYC-based guitarist/composer Anders Nilsson's website – contact: earraticart (at) gmail.com, find albums in the discography section. Big Thanks for reading & listening!
"Anders Nilsson, a guitarist & composer comfortable with everything from free improvisation to avant-garde metal, traverses ghostly mood-setting, bluesy twang and overdriven riffage" – Hank Shteamer, Time Out New York
"Swedish-born and New York-based experimental guitarist Anders Nilsson produces music that is at once bracingly direct and utterly unclassifiable." – Matt Miller, tuneOUToptIN
NEWS: 3/10/15 3 NEW ALBUMS RELEASED recently: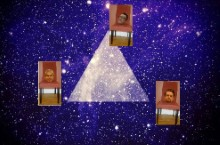 1: "Triangulation" by Fulminate Trio was released on Unseen Rain! http://www.unseenrainrecords.com/ (download only) This, our second trio release, features two originals: "Sex and Violence" (Nilsson) & "Otra cosa aparte" (Filiano), "Maple sugar boy" (Sainte-Marie) and two trio improvisations. Michael Evans, Ken Filiano and Anders Nilsson appear on 3 albums together: our 2008 self titled debut "Fulminate Trio" (Generate Records) and the Swedish-American septet album "Anders Nilsson's AORTA Ensemble" (Kopasetic Productions) from 2009. Link: http://www.unseenrainrecords.com/?page_id=1841
2: Mr. Elliott Sharp asked me to contribute a solo recording for volume 3 of XXI century solo guitar music. In his studio I recorded my solo piece "Variazioni su un monologo Funambolico". The cd "I never MetaGuitar III", jam-packed with solo guitar pieces by various guitarists, is now out on Clean Feed Records!  http://cleanfeed-records.com/product/i-never-meta-guitar-three-solo-guitars-for-the-xxi-century/
3: "Lady Boom Boom" with music by Jeremy Danneman-reeds played with Anders Nilsson-electric & alto guitars, William Parker-bass & kora, Tim Keiper-drums, percussion & ngoni on Ropadope!
3/1/15: Barbes, a bar in Brooklyn, offered me the opportunity to do a weekly gig every Saturday in February. It resulted in 4 performances with different people I know. 2/7 debut of a duo w. alto saxophonist Michael Attias (mainly new duo compositions of mine), 2/14 Exposed Blues Duo w. singer Fay Victor, a collaboration since 2007, 2/21 solo guitar, new and old pieces composed and improvised, 2/28 Anders Nilsson Group w. Peter Apfelbaum, David Ambrosio and Satoshi Takeishi. In spite of cold weather we had a warm reception and an attentive listening crowd each time. Fun!    
1/12/15 "KALABALIK II" – guitarists Raoul Bjorkenheim & Anders Nilsson & drummer Gerald Cleaver teamed up once again to play and make album #2 last week, it was also videotaped at Downtown Music Gallery in front of a devoted crowd. It was a smokin' set of freewheeling spontaneous composition so stay tuned about this product!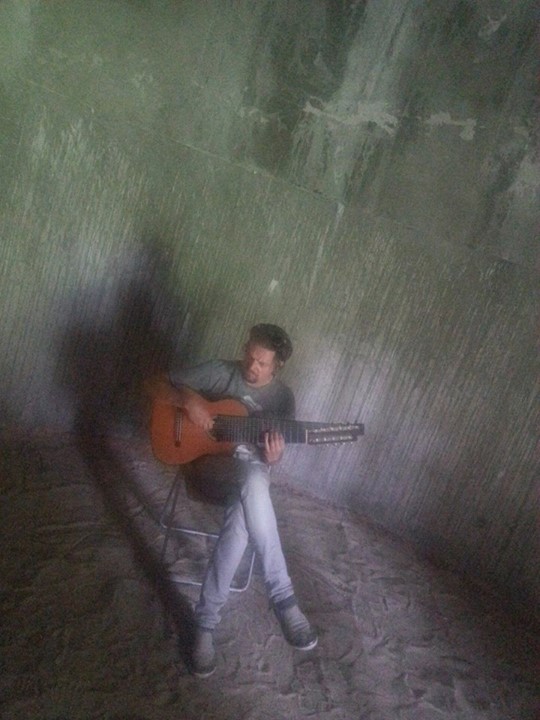 More coming album releases 2015:
– 2 more discs coming out on Ropadope from a recording session with music by Jeremy Danneman-reeds played with Anders Nilsson-electric & alto guitars, William Parker-bass & kora, Tim Keiper-drums, percussion & ngoni
– "Exit Strategy" – a trio consisting of Anders Nilsson on electric guitar, Francois Grillot on bass, Jay Rosen drums recorded an homage album to Rod Serling this June for C.I.M.P Records. We are also a party band! Watch our video in the "Videos" section for some fun! Here is our flyer, and our GigMasters page:  https://www.gigmasters.com/Beach-Band/EXIT-STRATEGY#/categories: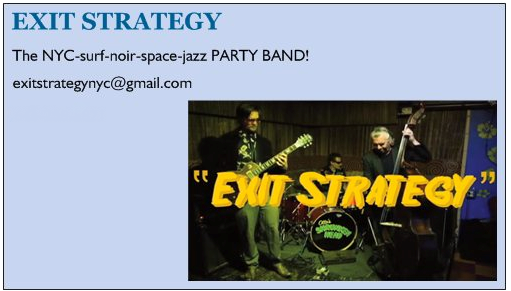 4/17/14 A juicy interview, or dialogue rather, conducted by my old friend/colleague Matt Lavelle: http://matt-lavelle.blogspot.com/2014/04/into-hot-with-anders-nilsson.html
4/10/14 AORTA played its first gig in 3 years April 9th @ Fasching, Stockholm: New music, same gang, hope to play more frequently with these titans! During a brief visit to Sweden I also had the opportunity to give a Master Class at Fridhems Folkhögskola to 8 really good guitarists, and appear in an ad hoc improv group, at a gig arranged by FRIM-syd, lots of fun!
12/1/13 Interview in Prepared Guitar ://preparedguitar.blogspot.com/
7/20/13…the solo guitar performances are developing into combinations of improvised and composed pieces of epic proportions
7/1/13…Nilsson/Fonda/Nilsson's cd "Powers" is out on Konnex Records! guitar trio record (in discography) http://steptempest.blogspot.com/2013/02/3-x-3-february2013.html

Watch a video! more of them in "Videos"
: