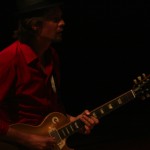 CONTACT: earraticart @ gmail.com
"Anders Nilsson, a guitarist & composer comfortable with everything from free improvisation to avant-garde metal, traverses ghostly mood-setting, bluesy twang and overdriven riffage" – Hank Shteamer, Time Out New York
"Swedish-born and New York-based experimental guitarist Anders Nilsson produces music that is at once bracingly direct and utterly unclassifiable." – Matt Miller, tuneOUToptIN
"Guitarist/composer Anders Nilsson cranks out music that makes some of the atonal performances at the Tanglewood's New Music Festival seem like a Boston Pops Movie Night concert. At one point Nilsson leaves his guitar long enough to have a sexual encounter with one of the hostesses at a casino." – Elyse Sommer, CurtainUp
NEWS: 
2/27/17 Alternative guitar tunings are always fascinating for us guitarists! I'd never tried this before: E F D B C E. A moody and appreciative one for parallell chord movements.
12/29/16 Fulminate Trio's "Triangulation" released on Unseen Rain Records is now available on bandcamp! https://fulminatetrio.bandcamp.com/
11/25-28 Touring Germany with Mohsen Namjoo
8/7 My string quartet "Utterly" is now finished! It's a roughly half hour long piece in 3 movements I've been working on for over a year. It's inspiration comes from hearing my son's first expressive sounds and noises, bilingualism, and various musical ideas orbiting in my mind. This is the first one I've written since 1997 when I wrote and performed a one movement piece "Paths" (part 1) for string quartet plus myself as soloist on electric guitar. The new one is just for string quartet and is the most consuming composition I've written to date. I feel agog about the fantastic Momenta Quartet digging into it. Premier tbd.
4/1 "THE WHY" A new trio premiered at the Evolving Series on the lower east side. A short spoken presentation: