WELCOME to NYC-based guitarist/composer Anders Nilsson's website – for contact please e-mail earraticart (at) gmail.com, CDs or Downloads are in the DISCOGRAPHY section above, Big Thanks for reading & listening!
"Anders Nilsson, a guitarist & composer comfortable with everything from free improvisation to avant-garde metal, traverses ghostly mood-setting, bluesy twang and overdriven riffage" - Time Out
"Swedish-born and New York-based experimental guitarist Anders Nilsson produces music that is at once bracingly direct and utterly unclassifiable." - Matt Miller, tuneOUToptIN
HOT NEWS:
8/10/14 6 Upcoming albums are to be released!:
-Elliott Sharp asked me to contribute a solo recording for an upcoming compilation of XXI century solo guitar music. In his studio I recorded "Variazioni su un monologo Funambolico". Cd due out on Cleanfeed in October!
-Fulminate Trio recorded a batch of new composed and improvised music, felt real good, stay tuned for a release on Unseen Rain Records summer of 2014…
-Three discs coming out on Ropadope of a recording session with music by Jeremy Danneman-reeds played with Anders Nilsson-electric & alto guitars, William Parker-bass & kora, Tim Keiper-drums, percussion & ngoni
- "Exit Strategy" – a trio consisting of Anders Nilsson on electric guitar, Francois Grillot on bass, Jay Rosen drums recorded an homage album to Rod Serling this June for C.I.M.P Records. We are also a party band! Watch our video in the "Videos" section for some fun! Here is our flyer, and our GigMasters page:  https://www.gigmasters.com/Beach-Band/EXIT-STRATEGY#/categories
: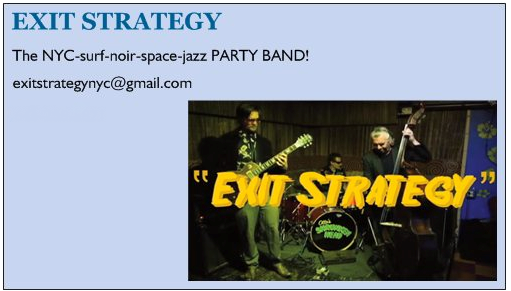 …4/17/14 A new juicy interview, or dialogue rather, conducted by my old friend/colleague Matt Lavelle: http://matt-lavelle.blogspot.com/2014/04/into-hot-with-anders-nilsson.html
…4/10/14 AORTA played its first gig in 3 years April 9th @ Fasching, Stockholm: New music, same gang, hope to play more frequently with these titans! During a brief visit to Sweden I also had the opportunity to give a Master Class at Fridhems Folkhögskola to 8 really good guitarists, and appear in an ad hoc improv group, at a gig arranged by FRIM-syd, lots of fun!
…12/1 Interview in Prepared Guitar! http://preparedguitar.blogspot.com/
…7/20/13…the solo guitar performances are developing into combinations of improvised and composed pieces of epic proportions
…7/1/13…Nilsson/Fonda/Nilsson's cd "Powers" is out on Konnex Records! guitar trio record (in discography) http://steptempest.blogspot.com/2013/02/3-x-3-february2013.html

Watch a video! more of them in "Videos"
: